Auction Report:The Madame Petyt Collection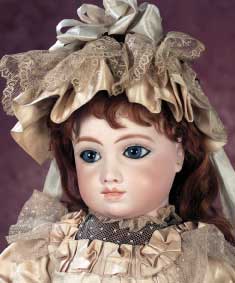 Top price of Theriault's May auction in Las Vegas was realized by a 22" composition-bodied French bébé marked A.T. by Thuillier. It sold for $52,000 against a pre-sale estimate of $25,000/30,000. (Photo:Theriault's)
More pictures below.
"Can there be too many Jumeau dolls in an auction?" was the buzz in the doll world prior to Theriault's auction of "A Cherished Collection" in Las Vegas on May 5 and 6. The auction featured 65 Jumeau dolls, among its 700 lots of dolls and playthings. If their sales results were any indication, the answer is a very definite "there can never be too many".
French dolls, particularly those of Emile Jumeau, were the specialty of Madame Andrée Petyt of Brussels, Belgium whose collection was featured in Theriault's single-owner auction. Her 30-year collection, begun in the early 1960's, offered a large variety of models by that firm, and collectors were wowed not only by the quality of the dolls, but also their superb original wigs and costumes. "I loved the catalog", exclaimed one collector, who then added, "but no photograph could depict the costumes in detail. I am so glad that I attended!" Original couturier costumes from the Jumeau firm appeared on several of the bébés including a size 14 tete model with superb costume of burgundy silk and velvet that topped at $23,000, a 24" early portrait bébé selling for $21,000, a 20" depose model that went to $11,500, and a Bébé Triste, size 13, that went to $26,000.
There were, in fact, four models of the beloved Bébé Triste, also known as long-faced bébé, at the Theriault auction, including two examples of the very rare size 16 measuring 33"; one, wearing a fine antique silk jester costume, reached $28,000 while the other, luxuriously garbed in ivory silk satin and lace, soared to $34,000. A size 12 Bébé Triste sold for $26,000. Petite dolls as well as grand were in demand. Three little bébés in size 1, 2, and 3 were presented, and realized, respectively, $5600, $5000, and $7800. Lady dolls or poupees by Jumeau were well represented. A near mint model by Pierre-Francois Jumeau, with its original label from the Paris boutique of A La Galerie Vivienne, moved quickly to $10,500, a 30" portrait model went to $25,000, a 14" model with bisque hands sold for $3600, and a classic size 4 beauty with very sturdy original kid body and wig topped at $3200.
Bébés by other French firms were in abundance at the Theriault auction, too; top selling price of the two-day weekend was accorded to a 22" size 9 bébé A.T. by Thuillier that realized $52,000. Bébés by Leon Casimir Bru included a brown-eyed classic period 22" bébé for $24,000, and a 22" blue eyed bébé at $29,000. A 27" bisque bébé by Schmitt et Fils with pear-shaped facial modeling sold for $25,000, and a pristine round-faced model with superb original costume, measuring a mere 11", was a crowd favorite at $34,000.
The auction, conducted at The Venetian Hotel in Las Vegas, marks Theriault's fifth anniversary at this location, which also hosted their auction of the famous Mildred Seeley doll collection, and last year's momentous auction of the Lego Museum Collection of Antique Dolls and Toys. "If the Lego Museum was the first important museum collection of dolls to be sold in America", said Stuart Holbrook, company President, "then Madame Petyt's Cherished Collection is certainly the first important private collection. America has become the benchmark for selling important doll collections today." A nearby collector, delighted with her purchases, agreed, and the members of the Petyt family, in attendance at the auction, added "And Theriault's is certainly the firm to do it."
Theriault's offers a number of bidding options and although the firm encourages collectors to attend because "nothing replaces the pleasure of first-hand involvement, of choosing your favorites in an up close and personal way", according to Stuart Holbrook, collectors can also send in absentee bids, make reservations to bid by phone at the actual time of the auction, or bid live via the internet. "Theriault's live internet bidding is a fabulous experience", explains Holbrook, "because we offer a live video/audio feed from the auction so you can actually listen to all the goings-on and have a bit of the fun of actually being there." In fact, when Theriault's offers its complimentary hot fudge sundaes to all in attendance half way through the auction, Holbrook calls out to the internet crowd, "Now is the time to go to the kitchen and make your own sundae".
"A Cherished Collection", the Madame Petyt doll collection, was offered in a 272 page hardbound commemorative catalog with hundreds of glorious full color photographs. The two day auction realized $2,500,000 including buyer's premium. (Prices listed above to do not include the buyer's premium). A limited number of catalogs are still available and can be ordered by calling 800-638-0422 or visiting www.theriaults.com. The remainder of the collection, more than 500 lots, will be offered in a one-day auction, "The Attic Dolls of Madame Petyt" on Sunday, June 10, in Annapolis, Maryland and the lots can be viewed by visiting www.theriaults.com and clicking on the button for Proxibid.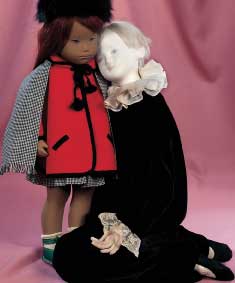 1B. Rare studio dolls by the Swiss artist Sasha Morgenthaler are in demand by a dedicated group of collectors. The auction offered a fine selection including Girl in Autumn Ensemble that sold for $8000, and Pierrot that went for $6500.(Photo:Theriault's)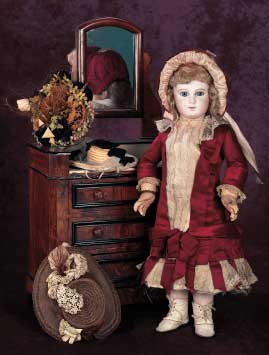 1C. A gorgeous 24" French bisque portrait bébé by Jumeau quickly rose to $22,000 (pre-sale $12,000/18,000). The doll dresser was $1300 and three bonnets "topped" at $850.(Photo:Theriault's)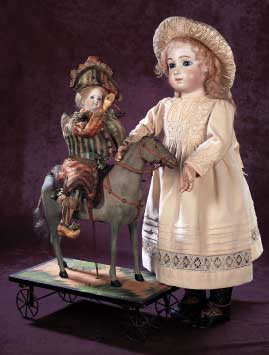 What 19th century child would not have delighted at the Polichinelle Riding a Horse pull toy? 21st century grown-ups delighted too, and it rode into the sunset at $8500. The 27", size 12, Bébé Triste by Emile Jumeau realized $25,000.(Photo:Theriault's)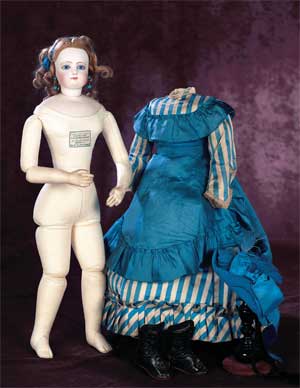 The bodies of the beautiful French poupee ladies, often made of kid leather, are susceptible to general wear and tear. Not this lady! She was as pure as when she was made, nearly a century and a half ago, and even bore the name of the Paris boutique that had originally sold her. Her selling price doubled its pre-sale at $10,000.(Photo:Theriault's)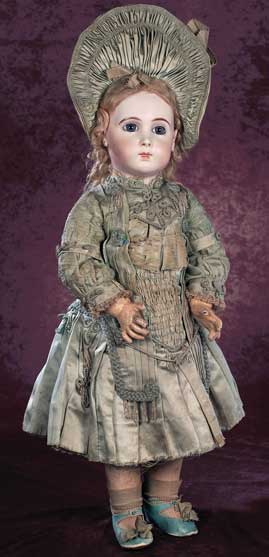 Her stunning and original couturier costume and pale luminous bisque were well worth the bidding war at Theriault's May auction in Las Vegas. The 28" Bébé Jumeau sold at $26,000 against an estimate of $17,000/23,000.(Photo:Theriault's)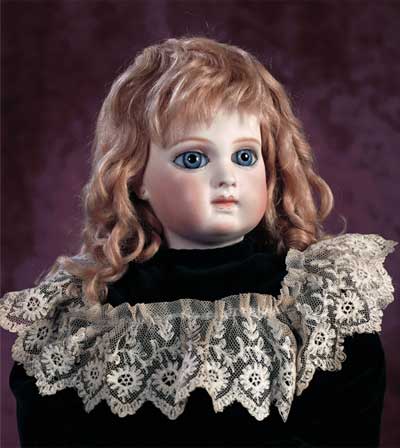 Collectors refer to the large luminous eyes that are sometimes found on early portrait Jumeau bébés as "wrap-around" and they are in high demand. This 19" beauty topped at $16,000 (pre-sale $6000/8000).(Photo:Theriault's)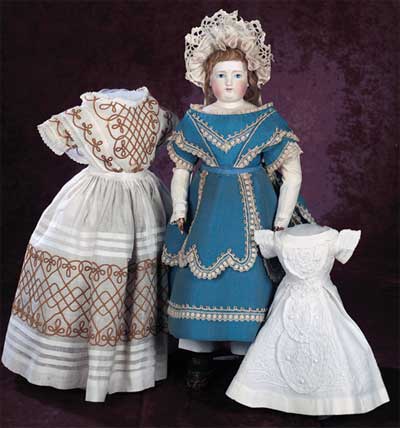 The blue of her eyes exactly matched the blue linen of her fine early costume with soutache embroidery and the 18" early doll sold for $6400. The Madame Petyt collection included many fine antique doll costumes; the two shown here sold for $950 and $1750, respectively, at Theriault's May auction of that collection. (Photo:Theriault's)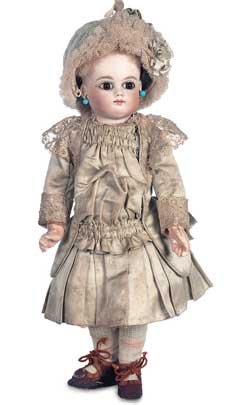 A mere 11" tall, the round-faced bébé by Schmitt et Fils won collectors' hearts and when the bidding battle was over, she seemed to stand a bit taller. Her final bid was $34,000 (pre-sale $9000/13,000) at Theriault's auction. (Photo:Theriault's)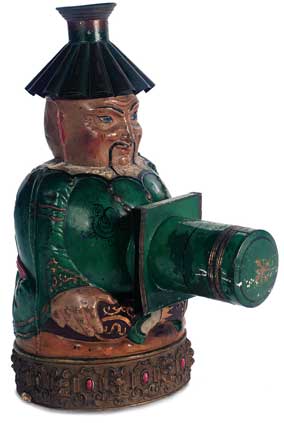 The family of Madame Petyt had operated the first cinemas in Brussels in the early 20th century which may have explained her interest in optical toys. This magic lantern, known as Buddha, by Frenchman Louis Aubert, sold for a record $17,000. Other examples included Ernst Plank's Pagoda magic lantern that went to $18,000, and a Polyrama Panoptique with day and night scenes that sold for $3500. (Photo:Theriault's)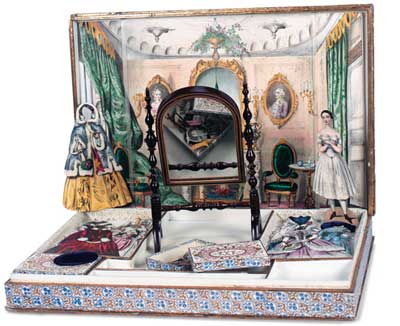 The very rare French paper doll "Psyche" was in her original box and even included background sceneries and a wooden psyche mirror. In superbly preserved condition, the set sold for $7500 at Theriault's May auction. (Photo:Theriault's)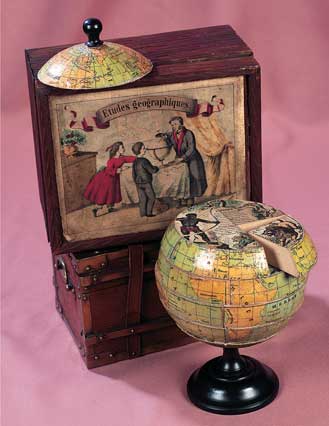 The Brussels collector, Madame Petyt, whose collector was offered at Theriault's single-owner auction loved all things childhood so her collection included many playthings. One of the most popular items was the surprise "Jeu du Globe"which appeared like a standard world globe on pedestal but actually was a puzzle. It sold for $9500 against an estimate of $800/1100. (Photo:Theriault's)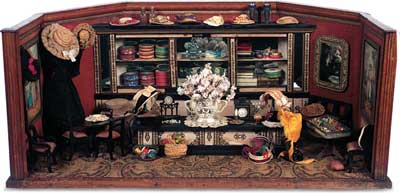 A miniature milliner's shop from the mid-19th century including original framed engravings and built-in cabinets. It sold for $15,000 (Photo:Theriault's)